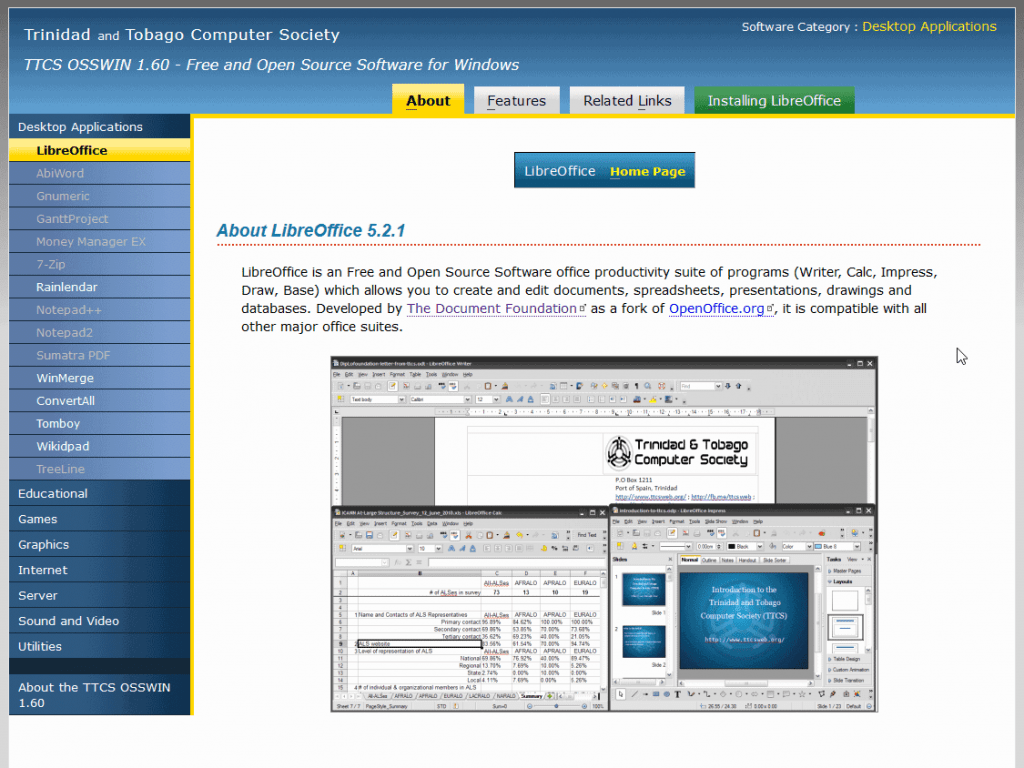 TTCS OSSWIN v1.62 released December 19 2016.  See the Changelog
The Trinidad and Tobago Computer Society (TTCS) has put together a collection of nearly 100 Open Source Software for WINdows (OSSWIN) available for download.
Called TTCS OSSWIN, this collection of Free and Open Source Software is for any home or business (i.e. any) user running Microsoft Windows (Windows 10, Windows 8, Windows 7, Windows Vista and Windows XP) on their computers.
You can use your web browser to read detailed information about each program in this compilation : what the program does, its key features, useful related websites, view a screenshot, find links to the program's website and to download/install the program from the TTCS OSSWIN collection.
The web-based interface allows you to quickly browse the variety of software organised into the following categories:
Desktop Applications
Educational
Games
Graphics
Internet
Server
Sound and Video
Utilities
Key features of the TTCS OSSWIN
Easy to install

While many Free and Open Source Software are easy to install, some Free and Open Source Software for Windows are made available as ZIP files which require the user to manually extract the files to a directory and then use Windows Explorer to browse to the directory and run the program. The TTCS has created standard .EXE installers for these applications. This allows the user to easily install and uninstall programs in the collection

Easy to browse with Windows Explorer

All of the software on TTCS OSSWIN is in the "Software" folder with subfolders for each of the categories. This makes it easy for those users who are familiar with the collection to use Windows Explorer to browse and install software on another machine.

Software on TTCS OSSWIN is kept up to date at time of purchase

The TTCS OSSWIN is burnt "on demand" for upcoming TTCS meetings and/or email requests to purchase collection either of DVD or on a USB stick. Buyers receive the most recent stable versions of the software at time of purchase.
How can I get the TTCS OSSWIN?
If you have broadband access, you can download the TTCS OSSWIN.
TTCS OSSWIN version 1.62 was created on December 19 2016 and is available for download as an .ISO file. It is over 3GB in size, so this is feasible only if you have broadband.
You can download the ISO from hubiC.
(We welcome mirrors! Email info@cs.tt)
TTCS OSSWIN v1.62
Date created : December 19 2016
File name : ttcs_osswin_v162.iso
File size : 3.65 GB (3,919,874,048 bytes)
MD5 checksum :  9985010c 908aff5e 452d2ef0 f4b5c1bc / 9985010c908aff5e452d2ef0f4b5c1bc
SHA-1 : eb0aae58 c9bc1cce a4bc8d29 a98fcf02 25db1472  / eb0aae58c9bc1ccea4bc8d29a98fcf0225db1472
SHA-256 : f6e8f2f1 521525a8 9f5080f8 986b76e5 bd7fde2a ca6d9d25 77d9cb1e 358a029e / f6e8f2f1521525a89f5080f8986b76e5bd7fde2aca6d9d2577d9cb1e358a029e
Changes from TTCS OSSWIN v1.61
Updated: Tomboy, Speedcrunch, Maxima,  Armagetron Advanced, LucasChess, Mozilla Firefox, Mozilla Thunderbird, Filezilla, BlueGriffon, Miranda IM, gPodder, Audacious, AxCrypt, AutoHotkey
Use a program like VisualHash or WinHasher to hash your downloaded file to see if it matches the hashes here. If your downloaded file hash is different, then your downloaded file is different from the file the TTCS has published and shouldn't be trusted.
How to use TTCS OSSWIN
You can use a DVD burner and DVD burning software like IrfraRecorder to burn the ISO file onto a blank 4.7GB DVD.
However, you can use a program like WinCDEmu to "mount" the ISO file to view and access the ISO as if it was an DVD disc in a DVD drive.
Alternatively, you can use 7-Zip to extract the files to a folder on your hard drive or removable storage such as a USB flash drive.
Hardware and Software Requirements for TTCS OSSWIN
This collection of Free and Open Source Software is intended for use on the following versions of Windows : Windows® 10/8/7/Vista/XP.
The software requirements for each program/application varies but if your Windows PC is already running a program that falls in one of the categories (e.g. Desktop Applications, Graphics, Internet, etc) it can probably run the programs listed under that category.
List of software on TTCS OSSWIN
Below is the software included in the TTCS OSSWIN v1.62 created December 19 2016.
How is the TTCS involved in this project?
Members of the TTCS:
Downloaded, tested/evaluated the various applications, utilities, games, etc. included in the compilation.
Where necessary, created installers for those applications without an installer.
Created and tested the web based user interface.
Created a web page for each program with the program's description, its key features and related links.
Distributes the collection online for use by general public of Trinidad and Tobago and worldwide.
What is Free and Open Source Software?
Free and Open Source Software is software for which the "guts" of the program can be freely downloaded and altered to suit your needs (provided you can do the programming). There are many types of Free and Open Source Software. The difference lies in the way altered versions of the software can be distributed, so, if you customise the software for your own needs, then decide to distribute it, you may be bound by specific terms.
Many Free and Open Source Software projects make ready to install executable versions for various operating systems including Windows.
You can do the following with Free and Open Source Software :
Install the software on any number of machines in any environment (home or commercial) without purchasing licence fees for each machine.
Obtain and modify the source code and distribute modified versions of the program together with the modified source code. Free and Open Source Software licenses differ in how such source code can be distributed or licensed for others to also do what you have done.
Here are several links for you to learn more about Free and Open Source Software :