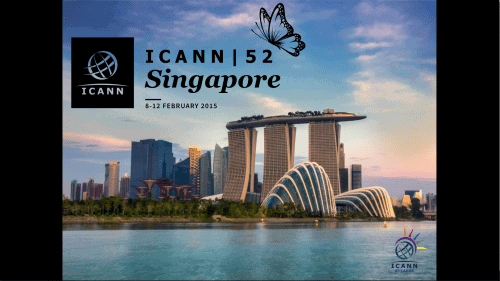 The Internet Corporation for Assigned Names and Numbers (ICANN )  will be having its 52nd public meeting from Saturday February 7 to February 12 2014 in Singapore.
Some important links to help you learn more and follow the #ICANN52 meeting
Daily Meeting Schedule – this will show the meetings happening on the day. Clicking on the meeting title will show the remote participation links that would allow you to follow the conversation and if you use the "Virtual Room Stream Live" link, that conferencing tool allows for persons in the virtual room to type questions or comments that could be read or answered by the Working Group chairing the meeting.
Full Meeting Schedule – this table (you will have to scroll in both directions) shows the various meetings happening in various rooms at the same time. All times listed are local to Singapore. The time in Singapore is 12 hours ahead of that of Trinidad and Tobago. So when looking at the ICANN 52 schedule, you'll need to subtract 12 hours to get the time of the meeting in Trinidad and Tobago.This means that the Monday Morning Schedule will take place on Sunday night in Trinidad and Tobago.
At-Large Meeting Agenda Workspace – lists the very busy schedule and agendas of the meetings of the At-Large Community.
The Trinidad and Tobago Computer Society (TTCS) is an accredited ICANN At-Large Structure (ALS) and a founding member of the Latin American and Caribbean Regional At-Large Organisation (LACRALO), which today has 45 At-Large Structures in 18 out of 33 countries in the Latin American and Caribbean Region. At-Large is the name for the community of individual Internet users who participate in the policy development work of ICANN.
Currently, as the TTCS' At-Large representative (Dev Anand Teelucksingh), I have continued to be involved in various At-Large activites, after serving as LACRALO Secretariat and on the At-Large Advisory Committee (ALAC). You can read my Statement of Interest for more information.
I do want to encourage anyone with a interest and a desire to learn more about ICANN policy issues and how to get involved, email me at [email protected] and I'll try my best to help.