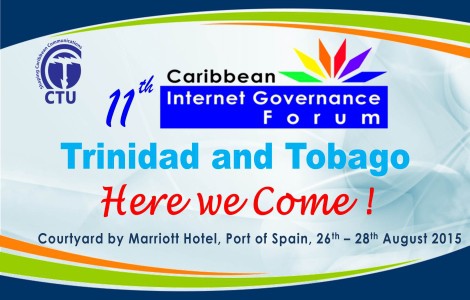 The 11th annual Caribbean Internet Governance Forum (CIGF) organized by the Caribbean Telecommunications Union (CTU) will be held in Trinidad and Tobago from August 26-28 2015 at the Courtyard by Marriott Hotel, Invaders Bay, Audrey Jeffers Highway, Port of Spain, Trinidad & Tobago.
The Caribbean Internet Governance Forum (CIGF) is a regional, multi-stakeholder forum initiated by the CTU and the Caribbean Community (CARICOM) Secretariat in 2005 to coordinate a regional approach to Internet Governance. The forum has since met annually and the primary products of its work have been the formulation of a Caribbean Internet Governance Policy Framework (currently at v2), the proliferation of Internet Exchange Points (IXPs) and capacity building in Internet Governance Principles across the Caribbean.
The 11th CIGF will focus on realising the new thrust, as announced at the 10th CIGF last year, to enhance Internet governance expertise and capacity at the national level in the Caribbean through the development of local multi-stakeholder structures, groups, fora or teams as appropriate. The 11th CIGF will also address areas of high priority for further policy development and continue the work of identifying appropriate amendments for incorporation into the next revision of the policy framework (Issue 3.0).
You can review the provisional agenda and register for free to attend the CIGF at the CTU's CIGF event page at
http://www.ctu.int/event/11th-caribbean-governance-forum
You can also contact Ms. Brenda Julien at the CTU at (868) 628-0281 or (868)-622-5871 ext 243.