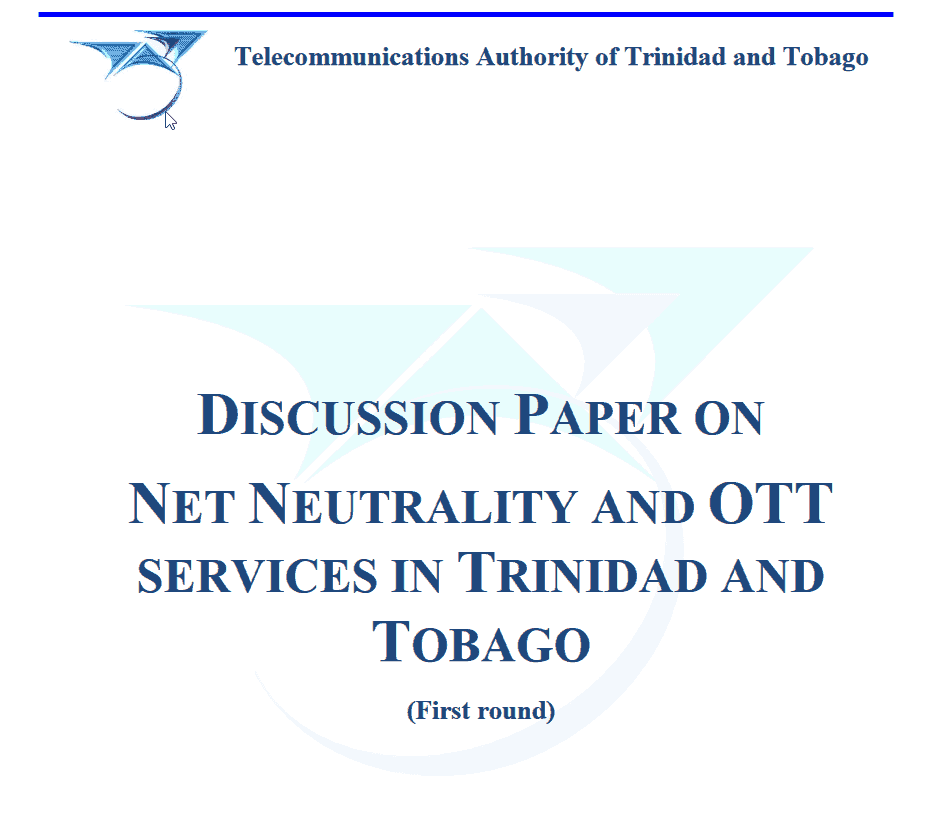 (Update: TATT has extended comments to Friday September 21 2018)
(Update2: TATT has further extended comments to Friday October 12 2018)
The Telecommunications Authority of Trinidad and Tobago (TATT) has published a Discussion Paper on Net Neutrality and OTT Services in Trinidad and Tobago (PDF ;  1034K )
The purpose of this 63 page discussion paper is to examine "both sides of the net neutrality debate within the context of Trinidad and Tobago and proposes guiding principles and recommendations for net neutrality. The paper considers to what extent net neutrality regulation is desirable in an era of growing OTT applications and services, and proposes policy positions to this effect."
Furthermore, the objectives of this paper are to:
i. explore the nature of OTT services as they relate to voice, media and messaging.
ii. present the key principles underlying both sides of the net neutrality debate.
iii. examine the policy issues relating to net neutrality and OTT services.
iv. propose guiding principles for net neutrality in Trinidad and Tobago.
v. make recommendations for the regulation of net neutrality and OTTs in Trinidad and Tobago.
View / Download
Discussion Paper on Net Neutrality and OTT Services in Trinidad and Tobago
(PDF ; 1034K)
Interested persons are asked to submit comments on this document in accordance with the TATT's Public Consultation Comment Submission Form on or before Friday 7 September 2018.