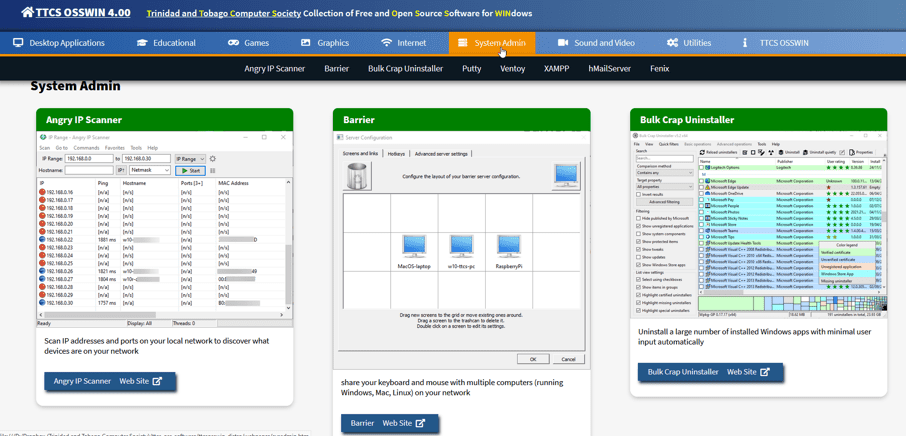 TTCS OSSWIN v4.00, a collection of Free and Open Source Software for Windows 10/8/7 is available for download or viewing online at https://ttcsosswin.ttcs.tt/ .
You can use your web browser to read detailed information about each program in this compilation : what the program does, view a screenshot or video of the program, and to find links to the program's website and to download/install the program from the TTCS OSSWIN collection.
Apart from many software updates, a new software category "System Admin" was introduced, replacing the "Server" category. 5 new programs were introduced in this software category : Angry IP Scanner, Barrier, Bulk Crap Uninstaller, Putty and Ventoy. Also, to reduce the file size of TTCS OSSWIN,
32 bit versions of software were removed if a 64 bit version of the software was available, saving over 1GB from the download.
You can view the TTCS OSSWIN page for the full list of programs included and detailed history of past changes.
Browse TTCS OSSWIN online
Browse TTCS OSSWIN online at
https://ttcsosswin.ttcs.tt/
You can browse TTCS OSSWIN online at https://ttcsosswin.ttcs.tt/ which features the web interface to learn about Free and Open Source programs in various categories, including screenshots or videos of the programs and a link to the program's website where you can download the program. The web based UI is responsive, meaning it should be usable on non-Windows small screen mobile phones and tablets.
Download TTCS OSSWIN
You can download the entire collection of TTCS OSSWIN as a 7GB file for extracting to your harddrive or USB storage device (or burn on a DVD). The TTCS OSSWIN collection provides a link to install the software directly. The web interface and all screenshots and videos are included in the collection so that you can browse and install software on a Windows computer without internet access.
TTCS OSSWIN v4 changelog
Date created : May 3 2022
File name : ttcs_osswin_v400.iso
File size : 5.93 GB (6,373,660,672 bytes)
SHA-256 : 3b223be6 d46d4de2 8779e10b 82ad4b20 928fafc5 78227e99 471a2f5d 60cf12c2
If you're want to give comments and feedback or want to assist with this project, then send a email to [email protected]