The Telecommunications Authority of Trinidad and Tobago (TATT) in collaboration with ICANN and the Latin American and Caribbean Regional At-Large Organisation (LACRALO) (the Trinidad and Tobago Computer Society is a member of LACRALO) will be hosting an online session on Tuesday April 18 2023 from 9am to 1pm to hear from leading experts in the field of Universal Acceptance who will share their insights on the benefits of Universal Acceptance, the challenges faced in achieving it, and what we can do to make it happen.
What is Universal Acceptance (UA) ?
A cornerstone of today's global Internet, UA offers many benefits for both individual Internet users as well as the organizations that serve them. There are currently approximately five billion Internet users, and at least one billion more are expected to come online. Most of these potential new users live in countries that speak and write in languages other than English. Achieving UA ensures everybody has the ability to experience the full social and economic power of the Internet using their chosen domain name and email address that best aligns with their interests, business, culture, language, and script.
UA is the gateway to a more inclusive and multilingual Internet. The Domain Name System (DNS) has expanded dramatically in recent years with the addition of new generic top-level domains (e.g., .photography, .technology). These also include Internationalized Domain Names (e.g., एमईआईटीवाई.सरकार.भारत, 红螺寺.网址, صحة.مصر, стопкоронавирус.рф) and country code top-level domains (e.g., .भारत). However, while the DNS has evolved, the checks used by many software applications to validate domain names and email addresses remain outdated. In addition, not all online portals are primed for the using or opening of a user account with an internationalized email address, leaving many people unable to navigate the Internet using their language and online identity of choice. Considered a technical compliance best practice, UA solves these issues by ensuring all valid domain names and email addresses, regardless of script, language, or character length, can be used equally by all Internet-enabled applications, devices, and systems.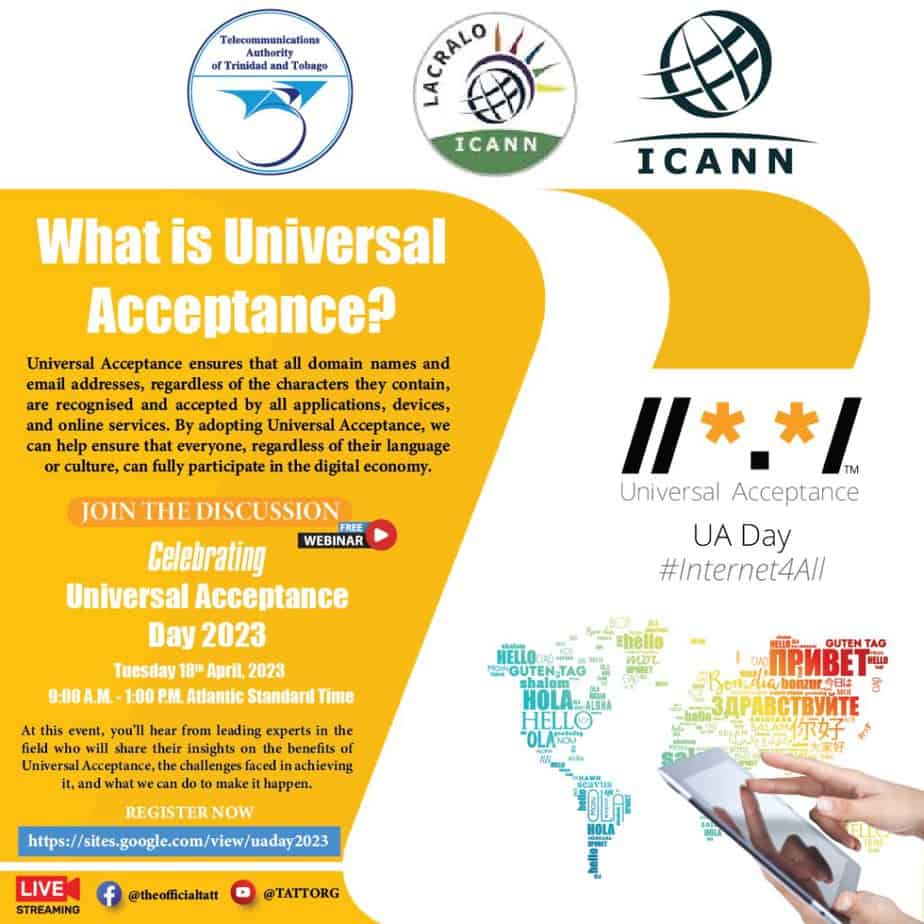 By adopting Universal Acceptance, we can help ensure that everyone, regardless of their language or culture, can fully participate in the digital economy. You can learn more about UA at https://uasg.tech/
Attendance to this event is FREE. Register to attend this event at
https://sites.google.com/view/uaday2023