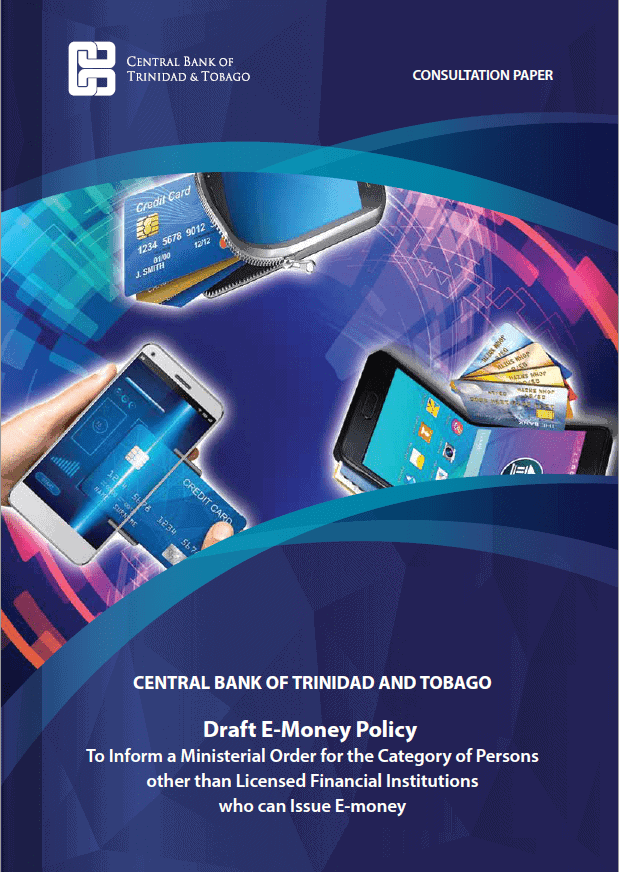 The Central Bank of Trinidad and Tobago has released a Draft E-Money Policy "To Inform a Ministerial Order for the Category of Persons
other than Licensed Financial Institutions
who can Issue E-money" for comments before December 12 2018.
View / Download Central Bank of Trinidad and Tobago Draft E-Money Policy (PDF ; 962K) | Local TTCS copy
From the E-Money Policy introduction:
The Financial Institutions Act 2008 ('FIA'), defines electronic money (e-money) as "a monetary value represented by a claim on the issuer which is –
a) stored on an electronic device;
b) issued on receipt of funds of an amount not less in value than the monetary value issued; and
c) accepted as a means of payment by persons other than the issuer,
so however that the funds referred to in (b) above shall not be treated as a deposit."
Currently, only financial institutions as defined in the FIA and licensed to conduct 'business of banking' or 'business of a financial nature' ('licensees') can issue e-money. E-money instruments include prepaid cards or stored value accounts, digital wallets etc.
However, given the emergence of Fintechs3 in the financial landscape, non- licensees have expressed interest in being permitted to issue e-money.
The Central Bank is of the view that e-money issuers other than licensees can help promote financial inclusion and development of the domestic payments system which is still heavily cash based.
Consequently, it has developed this E-money Policy that discusses the proposed regulatory framework for e-money issuers other than licensees for consultation with its regulated entities and other interested stakeholders.
The E-money Policy is divided into four parts:
• Part I is the Introduction;
• Part II discusses E-Money Developments in Trinidad and Tobago;
• Part III together with Appendices 1 and 2 examine international and regional precedent,
including risks associated with e-money issuance; and
• Part IV presents the policy recommendations for Trinidad and Tobago which are detailed in Appendix 3 – the draft E-Money Issuer Order to be made by the Minister of Finance.
The Central Bank advises that the consultation on the draft E-money Policy will be closed on December 12, 2018. Comments on the E-money Policy should be forward by e-mail to [email protected]