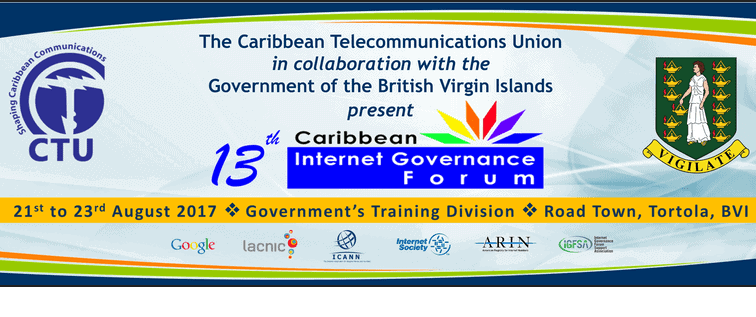 The 13th annual Caribbean Internet Governance Forum (CIGF) organized by the Caribbean Telecommunications Union (CTU) will be held from August 21 – 23 2017 at the Government's Training Division, Betteto Frett Building, Wickham's Cay 1 in Road Town, Tortola, British Virgin Islands.
You can read the overview and agenda of the 13th CIGF and register for the event online at http://www.ctu.int/events/13th-caribbean-internet-governance-forum/
The times in the British Virgin Islands is the same in Trinidad and Tobago so no need to recalculate the times on the CIGF agenda.
While persons will be able to watch and participate online, the Internet Society Trinidad and Tobago Chapter (ISOC-TT) will be having a local hub on the same days at the University of the West Indies (UWI). See the ISOC-TT's Facebook event page for details to register to attend.
CIGF Background
The Caribbean Internet Governance Forum (CIGF) is a regional, multi-stakeholder forum initiated by the CTU and the Caribbean Community (CARICOM) Secretariat in 2005 to coordinate a regional approach to Internet Governance. The forum has since met annually and the primary products of its work have been the formulation of a Caribbean Internet Governance Policy Framework (currently at v2), the proliferation of Internet Exchange Points (IXPs) and capacity building in Internet Governance Principles across the Caribbean.
The 13th CIGF will assess the status and effectiveness of the new thrust, being pursued since 2014, to enhance Internet governance expertise and capacity at the national level in the Caribbean. The new thrust will accelerate the development of national multi-stakeholder structures to facilitate in-country implementation of regionally derived/harmonised activities. The 13th CIGF will also provide a regional platform to highlight and address current IG issues of Caribbean and global prominence, towards building consensus on appropriate Caribbean methodologies and formulating action plans for advancing Caribbean interests.