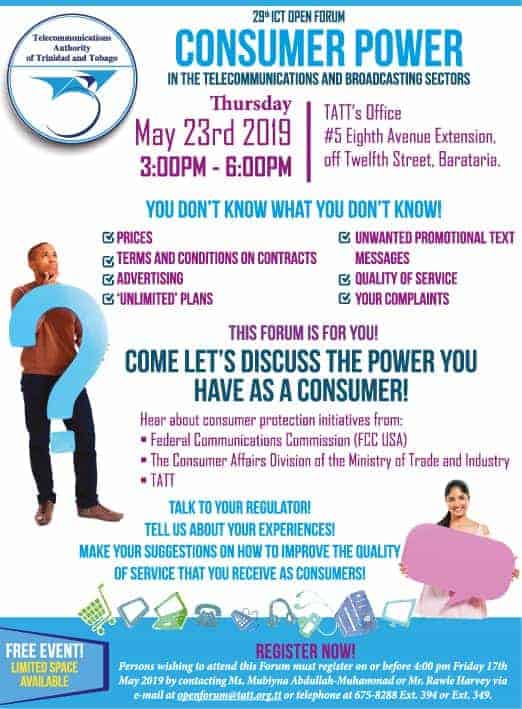 The Telecommunications Authority of Trinidad and Tobago (TATT) will be hosting its ICT Open Forum titled "Consumer Power in the Telecommunications and Broadcasting Sectors" on Thursday May 23rd from 3:00 pm to 6:00 pm at TATT Office #5 Eighth Avenue Extension, off Twelfth Street, Barataria.
Quoting from the TATT flyer :
YOU DON'T KNOW WHAT YOU DON'T KNOW!
PRICES
TERMS AND CONDITIONS ON CONTRACTS
ADVERTISING
'UNLIMITED' PLANS
UNWANTED PROMOTIONAL TEXT MESSAGES
QUALITY OF SERVICE
YOUR COMPLAINTS
THIS FORUM IS FOR YOU! COME LET'S DISCUSS THE POWER YOU HAVE AS A CONSUMER!
Hear about consumer protection initiatives from:
Federal Communications Commission (FCC USA)
The Consumer Affairs Division of the Ministry of Trade and Industry
TATT
TALK TO YOUR REGULATOR!
TELL US ABOUT YOUR EXPERIENCES!
MAKE YOUR SUGGESTIONS ON HOW TO IMPROVE THE QUALITY OF SERVICE THAT YOU RECEIVE AS CONSUMERS!
The event is free to attend but persons wishing to attend this Forum must contact Ms. Mubiyna Abdullah-Muhammad or Mr. Rowle Harvey via e-mail at [email protected] or telephone at 675-8288 Ex 394 or Ext 349